Koh Phangan Elephant Trekking - Web Links
Here some links to other Koh Phangan related websites - enjoy :-)


http://kohphanganreviews.com


Had Rin has a private health clinic run by the respected Bandon International Hospital Group and the west coast is not far from the main hospital just outside Thong Sala. Due to its longstanding popularity, the beach has developed to accommodate both budget and high end tourist markets making it a vibrant and busy beach in high season (December to March). The best time to visit Had Mae Had (as with all beaches this side of the island) is between the months of Dec-Mar, as during the rest of the year the sea level becomes lower and simming is not so good. There are over twenty clubs, scores of bars and restaurants serving every cuisine under the sun, from Mexican to Indian or whatever else you fancy. Apart from the lowlands of Ban Tai and Ban Khaay, the rest of the landscape is formed in rugged granite, with steep hills leading up to lush peaks covered in tropical rainforest.



http://thansadet.com


We have now completed our new garden at the side of the restaurant. Teep's Mai Pen Rai Bungalows - located in a tropical paradise at Than Sadet Beach on Kho Pha-ngan Thailand. Whether it is the beach that appeals to you, or the majestic hill top views, the hideout places at the waterfall, or the shade of the deep dense jungle behind, Than Sadet draws all kinds of people here, from all walks of life, and from many corners of the world, and shares her charm with all these kindred spirits. Due to the fast development of Koh Phangan, this really is a one of a kind place where the pace of life is still as it should be, and the feeling of the old Koh Phangan is still present in the atmosphere and feeling of this beach. All Thai Style Bungalows are harmoniously blending with the unspoilt nature around.



http://kohphangannews.org


Koh Phangan is located in the Gulf of Siam a little north of Koh Samui. About 75 % of the island is mountains covered by tropical jungle. Due to the great geographical diversity that Ko Pangan island has to offer, each beach has its own individual characteristics and attributes, leading to a different vibe on every beach with each one having its own identity. Offering fresh & latest news about Ko Pangan Paradise Island Thailand, Asia. Your support is more than welcome! It indeed helps us to keep up the good work we're doing. Island News provides un-censored, un-corrupted and uptodate news from this lovely island called Koh Phangan.



http://seaview.thansadet.com


A tricky 400m climb from the north end of the beach leads travelers to the beautifully lush grounds of Seaview Bungalow Resort at Thansadet beach. The accommodation at Seaview Bungalow Resort is inexpensive and simple but well sized and very clean. Fortunately, free transportation is provided to and from Than Sadet beach daily at 10:00 and 16:00 o'clock but you can also take a steep 15 minutes walk through the jungle to reach Thansadet beach by foot. Access from the main road is slightly shorter and less treacherous but still a bit of a trek. Arranged in a beautiful cliff side garden, each bungalow has a private deck overlooking the sea; Sea View Bungalow Resort at Thansadet beach truly lives up to its name.



http://phanganutopia.com


Phangan Utopia Resort prides itself on its modern facilities and high level of service that the resort provides. Phangan Utopia Resort also offers an extensive variety of cuisines to suit everyone's taste, excellent service and an idyllic ambience in choices of restaurants & bars. Utopia Resort offers concrete Modern Rooms all with air-con, hot shower, refrigerator, bathtub, cable TV and your personal DVD player. It's the perfect place to hang in a hammock on the balcony, with a scenic seaview and spend lazy time reading or taking naps. The best time to visit Mae Had beach is between the months of Dec - Mar, as during the rest of the year the sea level becomes lower and swimming is not so good.



http://kohphanganelephanttrekking.com


If you wish, our team can pick you up at your resort. We look forward to your visit. The mahout rides on the elephant's neck and uses leg pressure and a thotti, a special implement to guide the elephant. In contrast carrying tourists is an easy walk in the park and here they can live for eighty or even one hundred years! Nowadays machines have taken over the elephant's job of logging and consequently, elephants and their handlers, or mahouts are out of work. Are you looking for a little adventure during your holiday? If you are, then how about a ride on an elephant?



http://beckspaced.com


Beckspaced is a webdesign and internet development firm intent upon the creation of effective and engaging projects. Our focus is on the integration of programming, design and usability. As a professional Small Business Website Design Company we understand the value of your time and money. The business savvy design from Beckspaced.com has propelled its clients to a higher level of revenue and scale. Great design is great communication!
Koh Phangan News

Don't hesitate and check out the latest news about Koh Phangan Paradise Island!
Elephant Trekking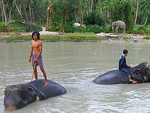 Currency Rates

US Dollar
37.54 THB
Australian Dollar
24.55 THB
British Pound £
40.74 THB
Canadian Dollar
27.61 THB
Danish Krone
4.89 THB
Euro €
36.38 THB
Hong Kong Dollar
4.78 THB
Japanese Yen ¥
0.26 THB
Swedish Krona
3.32 THB
Swiss Franc
38.23 THB
Russian Ruble
0.65 THB
updated: 24 Sep 2022