Koh Phangan Elephant Trekking - Web Links
Here some links to other Koh Phangan related websites - enjoy :-)


http://beckspaced.com


A professional and dynamic website goes a long way in catapulting the small businesses into a higher league. Irrespective of the size of your business, you need to have a vibrant and business-oriented website that is capable of communicating with your partners and potential customers. A verifiable online presence has become indispensable for every company - to lead its competition and to secure a dominant position in the industry. The future of a small business in the Internet economy hinges on the image which is projected from its website. Beckspaced is a webdesign and internet development firm intent upon the creation of effective and engaging projects.



http://kohphanganelephanttrekking.com


Never approach the elephants without the mahout's supervision, because afterall, while friendly, elephants are still wild animals. Are you looking for a little adventure during your holiday? If you are, then how about a ride on an elephant? If you book online in advance we guarantee a 10 % discount. Trekking per person is then only 450 Baht. The mahout rides on the elephant's neck and uses leg pressure and a thotti, a special implement to guide the elephant. If you wish, our team can pick you up at your resort. We look forward to your visit.



http://kohphangannews.org


The east of Ko Pangan is still largely undeveloped, and it is still not possible to access certain beaches by motorised vehicle. There is a beautiful walk from Had Rin, north to Had Yuan and Had Thian up to Thong Nai Pan and then onto Had Khuat (Bottle Beach). Real Estate and Property Guide for Koh Phan-ngan Island in Thailand. A Travel Guide to explore the islands awful truths and hidden secrets! But of course also YOU are welcome to support the team of Koh Phangan Island News in any possible way! Due to the great geographical diversity that Ko Pangan island has to offer, each beach has its own individual characteristics and attributes, leading to a different vibe on every beach with each one having its own identity.



http://phanganutopia.com


It's the perfect place to hang in a hammock on the balcony, with a scenic seaview and spend lazy time reading or taking naps. Utopia Resort is situated on top of the hill at Haad Thong Lang Bay with a fantastic sea view on the Gulf of Thailand. Phangan Utopia Resort has 3 Classic Thai Style Bungalows all of which have been newly refurbished. Phangan Utopia Resort is located in the north of Koh Phangan Island between Mae Haad Beach and Chaloklum Bay. The Utopia Modern House Bungalow is a two story building and you can either choose to stay in the upstair or downstair room.



http://kohphanganreviews.com


The coral reef that lays along the southern facing coast of the island starts here, thus in low tidal season (April to November) swimming on the beach side of the reef is not always possible. The beaches on Koh Pha-Ngan are some of the best in the Gulf of Thailand, and remain more popluar for people wishing to avoid the crowds of Koh Samui. There is still bit of the old Pha Ngan vibe in some of the bungalow resorts and you can get far away from the maddening crowd in Had Rin, whilst still being able to pop in for a midnight visit to 7-Eleven. Had Rin Nai (west) is split into two halves by a small rocky foothill, thus the southern section is accessed from the pier side of Had Rin town and the northern section can be reached from the main road at the bottom of the Had Rin hills. Most of the land along the coastline has been farmed as coconut plantation and the area takes on a dreamy desert island feel with palms leaning in to the calm emerald sea.



http://thansadet.com


MaiPenRai consists of 40 Bungalows directly at the Beach, on the Rocks or close to Thansadet River. Teep's Mai Pen Rai Bungalows - located in a tropical paradise at Than Sadet Beach on Kho Pha-ngan Thailand. For those seeking a little more solitude these are perfect to be slightly removed from the beach, but not too far away. Some of the beds are built into the actual rocks that have been incorporated into the rooms, giving a truly unique and artistic feel to the bungalow. This corner of Than Sadet has a unique, simple rustic feeling, that of the old Koh Phangan and is surrounded by wild jungle behind and a coast line of rugged wildness - ideal for treks and boat trips to the neighbouring beaches on the East coast of Ko Pha-ngan.



http://seaview.thansadet.com


Impressive sea views over the Gulf of Thailand. 15 min steep walk to Thansadet Beach. Perfect for a jungle retreat! The accommodation at Seaview Bungalow Resort is inexpensive and simple but well sized and very clean. Arranged in a beautiful cliff side garden, each bungalow has a private deck overlooking the sea; Sea View Bungalow Resort at Thansadet beach truly lives up to its name. Ko Pangan Thansadet is well known for its river and waterfall which meander down the mountain side through the dense jungle. Due to the seclusion of Than Sadet Beach we run our electricity from a generator.
Koh Phangan News

Don't hesitate and check out the latest news about Koh Phangan Paradise Island!
Elephant Trekking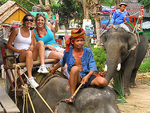 Currency Rates

US Dollar
32.84 THB
Australian Dollar
23.86 THB
British Pound £
44.80 THB
Canadian Dollar
26.35 THB
Danish Krone
5.00 THB
Euro €
37.23 THB
Hong Kong Dollar
4.22 THB
Japanese Yen ¥
0.29 THB
Swedish Krona
3.60 THB
Swiss Franc
35.86 THB
Russian Ruble
0.43 THB
updated: 20 Jan 2022