Koh Phangan Elephant Trekking - Web Links
Here some links to other Koh Phangan related websites - enjoy :-)


http://phanganutopia.com


Phangan Utopia Resort is located in the north of Koh Phangan Island between Mae Haad Beach and Chaloklum Bay. Phangan Utopia Resort prides itself on its modern facilities and high level of service that the resort provides. The friendly and professional staff, modern facilities and well maintained grounds go well with the beautiful natural surroundings, providing the perfect setting for you to relax and unwind in this luxurious paradise. The resort has a wide selection of accommodation available; the cheapest are Classic Thai Style Bungalows with a ceiling fan. The swimming pool is one of only a few on the island and is situated next to the sea view terrace.



http://seaview.thansadet.com


Let our friendly service and relaxed atmosphere present you a truly enjoyable memory. Access from the main road is slightly shorter and less treacherous but still a bit of a trek. Located on top of the hill at Thansadet Beach on the east coast of Koh Phangan Paradise Island. Sea View Bungalow Resort at Thansadet beach features two different types of bungalows for travelers on a low budget. Sea View Bungalow Resort at Than Sadet Beach is a great value for those looking to relax and soak up the island atmosphere without a need for easy beach access.



http://thansadet.com


Whether it is the beach that appeals to you, or the majestic hill top views, the hideout places at the waterfall, or the shade of the deep dense jungle behind, Than Sadet draws all kinds of people here, from all walks of life, and from many corners of the world, and shares her charm with all these kindred spirits. MaiPenRai consists of 40 Bungalows directly at the Beach, on the Rocks or close to Thansadet River. If you are coming with a young baby or toddler we also offer a large baby cot / play pen with mosquito net, if you would like this in your room, please let us know. If you are visiting Ko Pangan in February or March time, perhaps you can join the annual MaiPenRai pool competition at Than Sadet Beach! All Thai Style Bungalows are harmoniously blending with the unspoilt nature around.



http://beckspaced.com


We cover all aspects from registering your domain name to setting up your website and hosting it for you. Our focus is on the integration of programming, design and usability. Irrespective of the size of your business, you need to have a vibrant and business-oriented website that is capable of communicating with your partners and potential customers. The Beckspaced Team of graphic artists and Website developers use the latest Internet technologies to make the user interface engaging. A verifiable online presence has become indispensable for every company - to lead its competition and to secure a dominant position in the industry.



http://kohphangannews.org


Island News provides un-censored, un-corrupted and uptodate news from this lovely island called Koh Phangan. The east of Ko Pangan is still largely undeveloped, and it is still not possible to access certain beaches by motorised vehicle. There is a beautiful walk from Had Rin, north to Had Yuan and Had Thian up to Thong Nai Pan and then onto Had Khuat (Bottle Beach). Koh Phangan Paradise Island is a place where time finally has no meaning at all and after a while you start seeing things in quite a different context. Koh Phangan Island News Website offers Scuba Diving, PADI Courses & Snorkeling information! You can party yourself to pieces in Had Rin Beach, watch coral grow from your hammock or you can stay at Than Sadet National Park and check out the giant monitor lizards.



http://kohphanganreviews.com


There is still bit of the old Pha Ngan vibe in some of the bungalow resorts and you can get far away from the maddening crowd in Had Rin, whilst still being able to pop in for a midnight visit to 7-Eleven. Due to its longstanding popularity, the beach has developed to accommodate both budget and high end tourist markets making it a vibrant and busy beach in high season (December to March). The sunset views can sometimes be spectacular, with views up and down the coastline and out to Koh Samui. Had Mae Had has recently gone through a lot of changes, it has greatly improved road connections and there is a village building up behind it. The best time to visit Had Mae Had (as with all beaches this side of the island) is between the months of Dec-Mar, as during the rest of the year the sea level becomes lower and simming is not so good.



http://kohphanganelephanttrekking.com


In the past, elephants worked in logging camps in the rain forests of northern Thailand. If you book online in advance we guarantee a 10 % discount. Trekking per person is then only 450 Baht. To the Thai people, elephants symbolize strength an therefore, they are worshipped in a special way. A lot of artwork, temples and souvenirs are often decorated with elephants. While there you can play with our friendly monkeys or feed 'Champion', our baby elephant. He loves bananas. To ride the elephants you sit in a type of saddle or gondola that is mounted on their backs.
Koh Phangan News

Don't hesitate and check out the latest news about Koh Phangan Paradise Island!
Elephant Trekking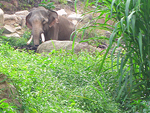 Currency Rates

US Dollar
36.95 THB
Australian Dollar
23.56 THB
British Pound £
44.81 THB
Canadian Dollar
27.04 THB
Danish Krone
5.20 THB
Euro €
38.79 THB
Hong Kong Dollar
4.72 THB
Japanese Yen ¥
0.25 THB
Swedish Krona
3.35 THB
Swiss Franc
40.26 THB
Russian Ruble
0.37 THB
updated: 02 Oct 2023