Koh Phangan Elephant Trekking - Web Links
Here some links to other Koh Phangan related websites - enjoy :-)


http://thansadet.com


The atmosphere in Thansadet is still simple, rustic, and slightly bohemian, with the emphasis on keeping in touch with the roots of nature around. Parts of Thansadet beach and Than Sadet Waterfall due to these royal connections are Koh Phangan National Park land. For those who come here to enjoy and appreciate the pleasures of Than Sadet, they take away memories that stay in the mind forever. If you are interested in renting a jeep during your stay at MaiPenRai Bunglows then please let us know. Price for jeep rental is 1.000 THB per day. The bumpy and difficult road, and indeed the lack of electricity at night, add to the charm of this special place, for it is indeed one of the last areas in Koh Phangan, where very little has changed.



http://seaview.thansadet.com


Sea View Bungalow Resort at Thansadet beach features two different types of bungalows for travelers on a low budget. The accommodation at Seaview Bungalow Resort is inexpensive and simple but well sized and very clean. Let our friendly service and relaxed atmosphere present you a truly enjoyable memory. Arranged in a beautiful cliff side garden, each bungalow has a private deck overlooking the sea; Sea View Bungalow Resort at Thansadet beach truly lives up to its name. Seaview Thansadet offers bungalows & accommodation with a fantastic view overlooking the Gulf of Thailand.



http://kohphanganelephanttrekking.com


Where else will you have the opportunity to enjoy a relaxed ride on mountain paths through the palm forests on the back of a gentle elephant? Our facility was designed to meet the special needs of our precious pachyderms. They even receive a yearly check-up from a government appointed veterinarian. Come and have a look at our facility. If you are driving east from Thong Sala, the trekking entrance is located approximately two kilometers before Chaloklum. The mahout, who is often the elephant's owner, is with the elephant for decades and is solely responsible for its care. Many mahouts are trying to create new job opportunities for themselves and their elephants by offering elephant rides to eager tourists. If you wish, our team can pick you up at your resort. We look forward to your visit.



http://kohphangannews.org


Koh Phangan is located in the Gulf of Siam a little north of Koh Samui. About 75 % of the island is mountains covered by tropical jungle. Koh Phangan Island News also offers you the great opportunity to add your website link into our link database. Some people on Koh Pha-Ngan don't ever venture into Had Rin Beach, maybe they don't like the party zone there. A Travel Guide to explore the islands awful truths and hidden secrets! Travel Info about Full Moon Party, Accommodation, Bungalows, Resort & Hotels on Kho Phan-ngan Island.



http://phanganutopia.com


Phangan Utopia Resort is located in the north of Koh Phangan Island between Mae Haad Beach and Chaloklum Bay. Mae Haad Bay has now greatly improved road connections and there is a small village slowly building up behind the beach. All of the resort's A/C rooms have western bathrooms, are fully fitted and furnished and have spacious balconies with stunning views over the Gulf of Thailand. The swimming pool is one of only a few on the island and is situated next to the sea view terrace. It's the perfect place to hang in a hammock on the balcony, with a scenic seaview and spend lazy time reading or taking naps.



http://kohphanganreviews.com


Thong Nai Pan Noi is the most popular of the two beaches at Thong Nai Pan, with a bohemian vibe and has a small village with some cool bars and restaurants. Located at the west end of Ao Sri Thanu, the village is the area's main fishing port, though it is only deep enough to handle smaller squid fishing boats and longtail boats thus it is still fairly tranquil. Apart from the lowlands of Ban Tai and Ban Khaay, the rest of the landscape is formed in rugged granite, with steep hills leading up to lush peaks covered in tropical rainforest. Ao Ban Tai is the middle section of the long sunset beach that runs the length of the south-east coast and forms part of the long unbroken stretch of white sand beach that runs from Ban Khai right the way up to Thong Sala. Had Yao means Long Beach is picture postcard material, with a one kilometre beach that is wide enough to play football on, sunset views, beautiful vistas and more than enough space to allow for it's ever expanding popularity.



http://beckspaced.com


Irrespective of the size of your business, you need to have a vibrant and business-oriented website that is capable of communicating with your partners and potential customers. At Beckspaced.com, we perceive our clients as potential partners and work towards a long lasting business relationship and are a part of their growth effort. A professional and dynamic website goes a long way in catapulting the small businesses into a higher league. Our small business websites offer the latest in Web 2.0 and features to keep you in contact with your target audience. Our goal is to introduce and guide you through the exciting world of the Internet.
Koh Phangan News

Don't hesitate and check out the latest news about Koh Phangan Paradise Island!
Elephant Trekking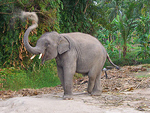 Currency Rates

US Dollar
31.49 THB
Australian Dollar
23.61 THB
British Pound £
43.51 THB
Canadian Dollar
25.32 THB
Danish Krone
5.03 THB
Euro €
37.39 THB
Hong Kong Dollar
4.06 THB
Japanese Yen ¥
0.29 THB
Swedish Krona
3.65 THB
Swiss Franc
34.17 THB
Russian Ruble
0.43 THB
updated: 18 Jun 2021