Koh Phangan Elephant Trekking - Web Links
Here some links to other Koh Phangan related websites - enjoy :-)


http://kohphanganelephanttrekking.com


In the past, elephants worked in logging camps in the rain forests of northern Thailand. If you come in the early morning or late afternoon you may have the opportunity to meet our elephants while they are having their daily bath. Trekking is quite popular during the high season so in order to plan the tours more efficiently and minimize waiting times, we are happy to arrange advance bookings. The half hour trek winds up the mountain through the palms and once on top of the mountain there is a wonderful view of Chaloklum bay, the Chinese temple and the mountains and valleys of Koh Phangan; a great photo opportunity. Never approach the elephants without the mahout's supervision, because afterall, while friendly, elephants are still wild animals.



http://haadyaodivers.com


Koh Phangan Island in the Gulf of Thailand is the perfect place to learn diving. We still belong to the smaller dive operators on the island which deal in quality rather than quantity and we know our divers by name. All our Daytrips and Local Trips around Kho Pan-nghan Island are suitable for snorkellers as well. As the only Go ECO Operator on Koh Phangan we are committed to environmentally responsible business practices, providing our divers with dive experiences that enhance visitor awareness of our aquatic environment. New location on Haad Yao since September 2009. Our main office is now right at the middle of Haad Yao behind Silver Beach Bungalows.



http://phanganutopia.com


Utopia Resort offers concrete Modern Rooms all with air-con, hot shower, refrigerator, bathtub, cable TV and your personal DVD player. It's the perfect place to hang in a hammock on the balcony, with a scenic seaview and spend lazy time reading or taking naps. Mae Haad Bay has now greatly improved road connections and there is a small village slowly building up behind the beach. Phangan Utopia Resort has 3 Classic Thai Style Bungalows all of which have been newly refurbished. There are poolside sun-loungers and umbrellas to cool off under, and tantalizing cocktails, fruit shakes and local beers are available at the restaurant.



http://kohphangannews.org


One of the great things about this island is the great variety of different places to stay, with beachfront bungalows, chalets in the rainforest, deserted beaches to camp on and luxury hilltop resorts, every taste is catered for. Your support is more than welcome! It indeed helps us to keep up the good work we're doing. The Black Moon Party in Baan Tai village, two weeks after the Full Moon Party, has been going on for three years on Pha-Ngan Island. Koh Phangan is a tropical paradise island perfect for investing, whether it be for business or pleasure. A Travel Guide to explore the islands awful truths and hidden secrets!



http://thansadet.com


This is truly a paradise where nature lovers and artists from all walks of life can come together, and enjoy the peace and serenity of this unique corner of the world. The rooms are bigger and more spacious and have been designed with the traveling spirit in mind for comfort, space and relaxation. For those seeking a little more solitude these are perfect to be slightly removed from the beach, but not too far away. Here you are able to be yourself and feel totally at home in the relaxed and friendly atmosphere of this Koh Phangan Resort. Among the more popular of our bungalows are the bungalows on the rocks, with spectacular views out to sea, where one is able to watch the sun rise from the bed with the window open, or the full moon rising on the night of the full moon.



http://seaview.thansadet.com


Accommodation is clean and simple with private bathroom and shower. All rooms at Seaview Thansadet Resort are all furnished and very spacious. Seaview Thansadet offers bungalows & accommodation with a fantastic view overlooking the Gulf of Thailand. Let our friendly service and relaxed atmosphere present you a truly enjoyable memory. A tricky 400m climb from the north end of the beach leads travelers to the beautifully lush grounds of Seaview Bungalow Resort at Thansadet beach.



http://beckspaced.com


The business savvy design from Beckspaced.com has propelled its clients to a higher level of revenue and scale. Every great business idea takes wings with the launch of a professionally designed website Web design is the skill of creating presentations of content (usually hypertext or hypermedia) that is delivered to an end-user through the World Wide Web. A verifiable online presence has become indispensable for every company - to lead its competition and to secure a dominant position in the industry. A professional and dynamic website goes a long way in catapulting the small businesses into a higher league.



http://kohphanganreviews.com


Had Rin has a private health clinic run by the respected Bandon International Hospital Group and the west coast is not far from the main hospital just outside Thong Sala. In the village there are two main centres, by the port - where there are internet facilities, a couple of quayside snooker halls, and some cheap farang friendly restaurants with satellite TVs. The coral reef lies about 400 metres off the beach, and in low tidal season (April to November), swimming on the beach side of the reef is not always possible. Located at the west end of Ao Sri Thanu, the village is the area's main fishing port, though it is only deep enough to handle smaller squid fishing boats and longtail boats thus it is still fairly tranquil. Had Mae Had is also a local dive site - many companies on Koh Pha-Ngan offer snorkelling and scuba diving trips to the nearby island of Koh Ma, which has a stunning coral reef.



http://plaa-thansadetresort.com


Enjoy the fantastic view and friendly atmosphere at Plaa's Thansadet Resort Kho Phan-ngan! All of the bungalows have western bathrooms and spacious balconies that look into one of the most beautiful tropical gardens on Koh Phangan Island. Stay in nice thai style bungalows with shower and fan all at rockbottom prices. Beach goers will appreciate the option to traverse a more stable path to the beach in addition to the treacherous rocky climb used to access other guesthouses at Than Sadet beach. The cool breeze high above the beach also offers an escape from the tropical heat down at Thansadet beach.
Koh Phangan News

Don't hesitate and check out the latest news about Koh Phangan Paradise Island!
Elephant Trekking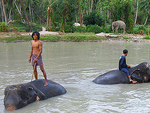 Currency Rates

US Dollar
31.88 THB
Australian Dollar
21.94 THB
British Pound £
40.56 THB
Canadian Dollar
23.74 THB
Danish Krone
4.76 THB
Euro €
35.58 THB
Hong Kong Dollar
4.06 THB
Japanese Yen ¥
0.29 THB
Swedish Krona
3.30 THB
Swiss Franc
31.57 THB
Russian Ruble
0.49 THB
updated: 21 May 2019