Koh Phangan Elephant Trekking - Web Links
Here some links to other Koh Phangan related websites - enjoy :-)


http://haadyaodivers.com


For stress-free and more personalized diving we take a maximum of 4 Divers per Divemaster. PADI's eLearning system is an innovative new program designed to make your PADI diving course with Haad Yao Divers training easier, more efficient and saves you valuable vacation time. Haad Yao Divers started as a small operation on Haad Yao Beach with only 1 PADI Instructor and Divemaster but became quickly a professional PADI Resort Dive Center. Opened 1997 Haad Yao Divers was the first Dive-Center on the West-Coast of Koh Phangan and one of the islands pioneers. At Haad Yao Divers we are happy to arrange accommodation for our divers.



http://phanganhualaemresort.com


Min. 5 nights required when booking for full moon-party If you manage to catch your own fish we are happy to help you BBQ or give you the possibility to make your own food. Simple standard wood, all come with double-bed, mosquito net, fan, toilet and shower (cold), balcony with hammock. Well maintained and cleaned. Beachfront and hillside with spectacular view from the balcony. All bungalows have one bedroom, separate shower/toilet, fan, mosquito-net/-windows and balcony with chair, table and hammock. We are happy to advice you concerning spice and tastes from the Thai-kitchen.



http://phanganutopia.com


Mae Haad beach offers sunset views over Koh Maa Island and the waters and coral reef that surround it are designated as a National Marine Park as they are so rich in marine sea life. The swimming pool is one of only a few on the island and is situated next to the sea view terrace. Utopia Resort is situated on top of the hill at Haad Thong Lang Bay with a fantastic sea view on the Gulf of Thailand. Although there are many rooms, care has been taken to ensure that the wonderful natural beauty of the area remains and the bungalows have been positioned so as to blend in with the landscape and rich tropical gardens Mae Haad Bay has now greatly improved road connections and there is a small village slowly building up behind the beach.



http://beckspaced.com


Beckspaced.com is specialized in straightforward, reliable web design work and web hosting at affordable prices Our goal is to introduce and guide you through the exciting world of the Internet. A verifiable online presence has become indispensable for every company - to lead its competition and to secure a dominant position in the industry. Irrespective of the size of your business, you need to have a vibrant and business-oriented website that is capable of communicating with your partners and potential customers. As a professional Small Business Website Design Company we understand the value of your time and money.



http://kohphanganelephanttrekking.com


Are you looking for a little adventure during your holiday? If you are, then how about a ride on an elephant? The mahout rides on the elephant's neck and uses leg pressure and a thotti, a special implement to guide the elephant. Nowadays machines have taken over the elephant's job of logging and consequently, elephants and their handlers, or mahouts are out of work. Come and have a look at our facility. If you are driving east from Thong Sala, the trekking entrance is located approximately two kilometers before Chaloklum. And so, life for the elephants here in southern Thailand is much easier than in the logging camps of the north.



http://first-residence.com


So, why choose Koh Pangan? Koh Phangan is now considered to be one of Thailand's up and coming tourist destinations The land on which the houses will be built is located on the West coast, close to Wok Tum, the beautiful sunset side of Koh Phangan Island. The Real Estate development market on Ko Pangan has never been so exciting, with escalating popularity. Koh Phangan Island is one of Thailand's top travel destinations, another reason is it's such a fine place to live! The German landowner designed this small exclusive residential area with six houses and one swimming pool.



http://thansadet.com


For those seeking a little more solitude these are perfect to be slightly removed from the beach, but not too far away. Mai Pen Rai offers a large variety of bungalows to travelers on different budgets, with a choice of 35 bungalows directly at the beach of Than Sadet Bay. The rooms themselves have more special touches with the sense of the traveling spirit always in mind, making your Mai Pen Rai Experience something even more special and memorable. For those who come here to enjoy and appreciate the pleasures of Than Sadet, they take away memories that stay in the mind forever. All Thai Style Bungalows are harmoniously blending with the unspoilt nature around.



http://seaview.thansadet.com


Sea View Bungalow Resort at Than Sadet Beach is a great value for those looking to relax and soak up the island atmosphere without a need for easy beach access. Seaview Thansadet offers bungalows & accommodation with a fantastic view overlooking the Gulf of Thailand. Arranged in a beautiful cliff side garden, each bungalow has a private deck overlooking the sea; Sea View Bungalow Resort at Thansadet beach truly lives up to its name. Located on top of the hill at Thansadet Beach on the east coast of Koh Phangan Paradise Island. Fortunately, free transportation is provided to and from Than Sadet beach daily at 10:00 and 16:00 o'clock but you can also take a steep 15 minutes walk through the jungle to reach Thansadet beach by foot.



http://kohphanganreviews.com


The beach is not very wide if the tide is in, and the southern section is not great for sunbathing as it's home to Had Rin Pier and debris clutters the beach in places. Apart from the lowlands of Ban Tai and Ban Khaay, the rest of the landscape is formed in rugged granite, with steep hills leading up to lush peaks covered in tropical rainforest. The pace of development has been slow and tasteful on Ao Chao Phao, and it retains the peaceful beauty and laid back vibe that drew the first island explorers here, then made them return year after year. Koh Phangan has over 250 resorts to choose from, ranging from the budget 80 Baht a night beach hut without private toilet to luxury air-conditioned accommodation with private swimming pool. The beaches on Koh Pha-Ngan are some of the best in the Gulf of Thailand, and remain more popluar for people wishing to avoid the crowds of Koh Samui.



http://plaa-thansadetresort.com


All of the rooms offer a stunning view over the Gulf of Thailand and Thansadet Beach and are set amongst wonderful tropical gardens. Plaa's Bungalow Resort at Thansadet beach offers two types of bungalow accommodation; there's Rocky Modern and Rocky Standard Bungalows all with spectacular views over Thansadet bay and the Gulf of Thailand. Overlooking the beach and the ocean, Plaa's Bungalow Resort sits on top the cliff at the northern end of Than Sadet Beach. The cliff top restaurant at Plaa's Bungalow Resort features several different areas to relax with raised Thai style sitting platforms with triangle cushions. With some of the highest quality accommodations on Than Sadet beach and a wonderful cliff top terrace restaurant with an extensive selection of well priced cuisine, Plaa's Bungalow Resort is a great choice.



http://lighthousebungalows.com


A wooden bridge now connects us to the beach whilst still retaining the away from it all feel. The rooms available start from old style Island Hut to moderm Concrete Apartment with massive balcony and private bathroom. A wooden bridge now connects Lighthouse Bungalows to Haad Rin Beach whilst still retaining the away from it all feel. Surrounded by nature, the Lighthouse's location offers spectacular views over the gulf of Thailand where you can relax in your bungalow hammock or sit back in the comfort of the Lighthouse Restaurant and enjoy delicious traditional Thai or European cuisine. Haad Rin is Koh Phangan's most popular and lively beach where you can find some of the most interesting attractions.



http://kohphangannews.org


As a natural paradise island in the Southern Gulf of Thailand, Koh Phangan serves as the perfect getaway retreat; relaxing on quiet deserted beaches, snorkelling and learning to dive at the distinctive island of Koh Ma. Koh Phangans one and only available news magazine with daily fresh and uptodate news. Accommodation on Koh Pha Ngan is available at a wide range of levels, with something to suit virtually every taste. Koh Phangan Island - The place of madness for lunatics, potheads and any kind of morons! Island News provides un-censored, un-corrupted and uptodate news from this lovely island called Koh Phangan.
Koh Phangan News

Don't hesitate and check out the latest news about Koh Phangan Paradise Island!
Elephant Trekking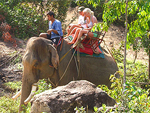 Currency Rates

US Dollar
32.54 THB
Australian Dollar
23.70 THB
British Pound £
42.49 THB
Canadian Dollar
25.16 THB
Danish Krone
5.12 THB
Euro €
38.17 THB
Hong Kong Dollar
4.16 THB
Japanese Yen ¥
0.29 THB
Swedish Krona
3.69 THB
Swiss Franc
33.90 THB
Russian Ruble
0.49 THB
updated: 23 Sep 2018