Koh Phangan Elephant Trekking - Web Links
Here some links to other Koh Phangan related websites - enjoy :-)


http://kohphanganelephanttrekking.com


And so, life for the elephants here in southern Thailand is much easier than in the logging camps of the north. To ride the elephants you sit in a type of saddle or gondola that is mounted on their backs. Never approach the elephants without the mahout's supervision, because afterall, while friendly, elephants are still wild animals. To the Thai people, elephants symbolize strength an therefore, they are worshipped in a special way. A lot of artwork, temples and souvenirs are often decorated with elephants. Right now, eight elephants live at our trekking facility which is approximately ten thousand square meters with a small lake where the where the elephants bathe daily.



http://kohphanganreviews.com


The beaches on Koh Pha-Ngan are some of the best in the Gulf of Thailand, and remain more popluar for people wishing to avoid the crowds of Koh Samui. Had Son is a privately owned beach and was previously inhabited by just one family, thus it is one of the region's most undeveloped and secluded bays. Ao Chao Phao is one of the reasons the west became so popular in the early days due to its beautiful sunset views and softly curved bay that is the image of paradise. Both sections of the beach are similar, with sunset views, long stretches of white sand and the odd mangrove on the coastline. Ao Ban Khai starts where the Had Rin hills stop and is part of the long unbroken stretch of beach that runs all the way up to Thong Sala.



http://plaa-thansadetresort.com


Sure, it's a bit of hike up the steps to get to your bungalow but the privacy, cost with only 500B per night and the breezes to cool you down up on the hill can't be beat. The cool breeze high above the beach also offers an escape from the tropical heat down at Thansadet beach. It's one of Ko Pangans most wonderfull places with a unique atmosphere! Enjoy the fantastic view and friendly atmosphere at Plaa's Thansadet Resort Kho Phan-ngan! Stay in nice thai style bungalows with shower and fan all at rockbottom prices.



http://seaview.thansadet.com


Ko Pangan Thansadet is well known for its river and waterfall which meander down the mountain side through the dense jungle. Seaview Thansadet offers bungalows & accommodation with a fantastic view overlooking the Gulf of Thailand. Sea View Bungalow Resort at Than Sadet Beach is a great value for those looking to relax and soak up the island atmosphere without a need for easy beach access. Sea View Bungalow Resort at Thansadet beach features two different types of bungalows for travelers on a low budget. Impressive sea views over the Gulf of Thailand. 15 min steep walk to Thansadet Beach. Perfect for a jungle retreat!



http://haadyaodivers.com


We welcome snorkelers and non divers to join our day trips on the dive boat which has a large, relaxing sun deck. Breakfast, a thai buffet lunch and soft drinks are provided free of charge all day. Today we are a PADI awarded 5 Star Instructor Development Dive Resort with an international team of enthusiastic and highly qualified PADI Instructors and Dive Masters from England, France, Switzerland and Germany. The boat trips to Sailrock, Angthong Marine Park, Koh Tao are the shortest from Koh Phangan. The unspoilt reefs along Phangan's west coast are relatively shallow but offer all kind of hard and soft corals and a huge variety of marinelife. The places close to the islands there offer phantastic snorkeling where you can experience the same marinelife like divers.



http://thansadet.com


The rooms are bigger and more spacious and have been designed with the traveling spirit in mind for comfort, space and relaxation. Mai Pen Rai offers a large variety of bungalows to travelers on different budgets, with a choice of 35 bungalows directly at the beach of Than Sadet Bay. Here you are able to be yourself and feel totally at home in the relaxed and friendly atmosphere of this Koh Phangan Resort. The paths up through the rocks and through the famous little cave have been re-landscaped artistically to fit in with the rocks to provide a beautiful and scenic route to your room. Whether it is the beach that appeals to you, or the majestic hill top views, the hideout places at the waterfall, or the shade of the deep dense jungle behind, Than Sadet draws all kinds of people here, from all walks of life, and from many corners of the world, and shares her charm with all these kindred spirits.



http://kohphangannews.org


Koh Phangans one and only available news magazine with daily fresh and uptodate news. Offering fresh & latest news about Ko Pangan Paradise Island Thailand, Asia. Koh Pha Ngan with its very special Full Moon Party has gained as being the biggest and best beach party in the world! Island News provides un-censored, un-corrupted and uptodate news from this lovely island called Koh Phangan. Koh Pha Ngan still retains its chilled out vibe and rustic desert island living, and virtually all the accommodation in still in friendly, family run bungalow operations.



http://phanganutopia.com


The friendly and professional staff, modern facilities and well maintained grounds go well with the beautiful natural surroundings, providing the perfect setting for you to relax and unwind in this luxurious paradise. Utopia Resort offers concrete Modern Rooms all with air-con, hot shower, refrigerator, bathtub, cable TV and your personal DVD player. The emphasis is on quality and style and every effort has been made to ensure the rooms are comfortable, clean, quiet and a pleasure to be in. Phangan Utopia Resort is located in the north of Koh Phangan Island between Mae Haad Beach and Chaloklum Bay. The emphasis is on quality and style and every effort has been made to ensure the rooms are comfortable, clean, quiet and a pleasure to be in.



http://beckspaced.com


Beckspaced.com is specialized in straightforward, reliable web design work and web hosting at affordable prices Beckspaced, a Small Business Website design company has developed a market tested methodology that has helped more than 500 customers world wide. We understand the cost constraint of the small-medium business and provide a solution that gives your organization the highest ROI for a cost-effective price. Our goal is to introduce and guide you through the exciting world of the Internet. We develop lasting relationships with our clients by serving as an effective partner in the Definition, Development, Implementation and Support of critical projects.
Koh Phangan News

Don't hesitate and check out the latest news about Koh Phangan Paradise Island!
Elephant Trekking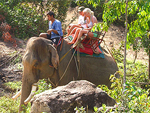 Currency Rates

US Dollar
31.15 THB
Australian Dollar
22.28 THB
British Pound £
40.64 THB
Canadian Dollar
23.63 THB
Danish Krone
4.93 THB
Euro €
36.71 THB
Hong Kong Dollar
4.02 THB
Japanese Yen ¥
0.30 THB
Swedish Krona
3.57 THB
Swiss Franc
34.27 THB
Russian Ruble
0.40 THB
updated: 28 Oct 2020