Koh Phangan Elephant Trekking - Web Links
Here some links to other Koh Phangan related websites - enjoy :-)


http://thansadet.com


Mai Pen Rai offers a large variety of bungalows to travelers on different budgets, with more than 40 bungalows on the beach, on the river, and on the rocks. The rooms are bigger and more spacious and have been designed with the traveling spirit in mind for comfort, space and relaxation. MaiPenRai consists of 40 Bungalows directly at the Beach, on the Rocks or close to Thansadet River. Ko Pangan Thansadet is well known for its river and waterfall which meander down the mountain side through the dense jungle. The bumpy and difficult road, and indeed the lack of electricity at night, add to the charm of this special place, for it is indeed one of the last areas in Koh Phangan, where very little has changed.



http://kohphanganelephanttrekking.com


Are you looking for a little adventure during your holiday? If you are, then how about a ride on an elephant? Nowadays machines have taken over the elephant's job of logging and consequently, elephants and their handlers, or mahouts are out of work. In contrast carrying tourists is an easy walk in the park and here they can live for eighty or even one hundred years! In the past, elephants worked in logging camps in the rain forests of northern Thailand. There, elephants had to work very hard dragging and moving huge hardwood trees and only had life expectancies of fifty or sixty years.



http://lighthousebungalows.com


A wooden bridge now connects us to the beach whilst still retaining the away from it all feel. Walk along the bridge for about two minutes then you will be at Lighthouse Bungalows. Surrounded by nature, the Lighthouse's location offers spectacular views over the gulf of Thailand where you can relax in your bungalow hammock or sit back in the comfort of the Lighthouse Restaurant and enjoy delicious traditional Thai or European cuisine. Only a 10 minute walk to Hadrin Village and Beach - Koh Phangan's host of the famous monthly Full Moon Party! Haad Leela is also known as Haad Seekantang and is about 15 minutes walk from Haad Rin town center.



http://seaview.thansadet.com


Fortunately, free transportation is provided to and from Than Sadet beach daily at 10:00 and 16:00 o'clock but you can also take a steep 15 minutes walk through the jungle to reach Thansadet beach by foot. The bungalow resort itself is based on top of the mountain on the northern end of Thansadet bay. Arranged in a beautiful cliff side garden, each bungalow has a private deck overlooking the sea; Sea View Bungalow Resort at Thansadet beach truly lives up to its name. Sea View Bungalow Resort at Than Sadet Beach is a great value for those looking to relax and soak up the island atmosphere without a need for easy beach access. A tricky 400m climb from the north end of the beach leads travelers to the beautifully lush grounds of Seaview Bungalow Resort at Thansadet beach.



http://kohphangannews.org


Koh Phangan has over 250 resorts to choose from, ranging from the budget 80 Baht per night beach hut without private toilet to luxury air-conditioned accommodation with private swimming pool. Koh Phangan Paradise Island is a place where time finally has no meaning at all and after a while you start seeing things in quite a different context. Travel Info about Full Moon Party, Accommodation, Bungalows, Resort & Hotels on Kho Phan-ngan Island. In terms of development Koh Pha-Ngan is still way behind Koh Samui and the other main tourist hangouts such as Phuket and Pattaya, which is the main reason why is still attracts many travellers. The east of Ko Pangan is still largely undeveloped, and it is still not possible to access certain beaches by motorised vehicle. There is a beautiful walk from Had Rin, north to Had Yuan and Had Thian up to Thong Nai Pan and then onto Had Khuat (Bottle Beach).



http://phanganhualaemresort.com


Our bungalows are of different size. All are either beachfront or inn the hillside with stunning view to the sea on the sunrise side of Haad Rin, Koh Phangan. All our bungalows come with a hammock where it is easy just to stay and listen to the sound of the waves, the birds, may be read a good book or simply relax and feel the good sea breeze. You can relax when you want to, and still not being too far when you want to join the crowd. And if you come for the famous Full Moon Party, you are just 10 minutes easy walk away from the party beach called HadRin Beach. Our service includes restaurant with a wonderful view to the full moon party-beach in Haad Rin and the Thailand Gulf.



http://plaa-thansadetresort.com


Plaa Thansadet Resort offers accommodation and bungalows at affordable prices. Beach goers will appreciate the option to traverse a more stable path to the beach in addition to the treacherous rocky climb used to access other guesthouses at Than Sadet beach. Enjoy the fantastic view and friendly atmosphere at Plaa's Thansadet Resort Kho Phan-ngan! The bungalow resort offers a great variety of accommodation with emphasis on style and quality; from simple island style huts to western standard cottages. The bungalows are privately situated on the cliffs overlooking the Gulf of Thailand and the Beach.



http://haadyaodivers.com


The boatrides to Sailrock, Angthong Marine Park, Koh Tao are shortest from Koh Phangan. As a PADI awarded 5-Star IDC Dive Resort we offer all PADI Courses from beginner up to Instructor Level in English, Deutsch, Nederlands and en francais. We are proud to offer the PADI Instructor Development Course (IDC) under the direction of awarded Platinum Course Director Camille Lemmens. The places close to the islands there offer phantastic snorkeling where you can experience the same marinelife like divers. The boat trips to Sailrock, Angthong Marine Park, Koh Tao are the shortest from Koh Phangan.



http://phanganutopia.com


The swimming pool is one of only a few on the island and is situated next to the sea view terrace. The best time to visit Mae Had beach is between the months of Dec - Mar, as during the rest of the year the sea level becomes lower and swimming is not so good. Mae Haad beach offers sunset views over Koh Maa Island and the waters and coral reef that surround it are designated as a National Marine Park as they are so rich in marine sea life. The friendly and professional staff, modern facilities and well maintained grounds go well with the beautiful natural surroundings, providing the perfect setting for you to relax and unwind in this luxurious paradise. Mae Haad Bay has now greatly improved road connections and there is a small village slowly building up behind the beach.



http://beckspaced.com


Web design is the skill of creating presentations of content (usually hypertext or hypermedia) that is delivered to an end-user through the World Wide Web. We understand the cost constraint of the small-medium business and provide a solution that gives your organization the highest ROI for a cost-effective price. The Beckspaced Team of graphic artists and Website developers use the latest Internet technologies to make the user interface engaging. We understand the fact that Budget is a constraint for small businesses and the website plays an extremely important role in the success of the firm. Beckspaced is a webdesign and internet development firm intent upon the creation of effective and engaging projects.



http://kohphanganreviews.com


If you're looking for things to do and see around Had Yao, the west coast of Koh Pha Ngan has something for everyone. Had Rin has a private health clinic run by the respected Bandon International Hospital Group and the west coast is not far from the main hospital just outside Thong Sala. Thong Nai Pan Noi is the most popular of the two beaches at Thong Nai Pan, with a bohemian vibe and has a small village with some cool bars and restaurants. The sunset views can sometimes be spectacular, with views up and down the coastline and out to Koh Samui. Had Mae Had is also a local dive site - many companies on Koh Pha-Ngan offer snorkelling and scuba diving trips to the nearby island of Koh Ma, which has a stunning coral reef.



http://first-residence.com


If you are interested in buying or leasing properties or land, be it for private or commercial use, we are here to assist you. The Real Estate development market on Ko Pangan has never been so exciting, with escalating popularity. So, why choose Koh Pangan? Koh Phangan is now considered to be one of Thailand's up and coming tourist destinations This unchartered development offers beach front plots ready to be transformed into your tropical paradise dream home. Many people wish to own land to build a vacation home in Thailand.
Koh Phangan News

Don't hesitate and check out the latest news about Koh Phangan Paradise Island!
Elephant Trekking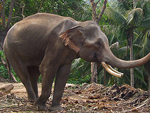 Currency Rates

US Dollar
33.28 THB
Australian Dollar
26.26 THB
British Pound £
42.65 THB
Canadian Dollar
26.43 THB
Danish Krone
5.26 THB
Euro €
39.13 THB
Hong Kong Dollar
4.25 THB
Japanese Yen ¥
0.30 THB
Swedish Krona
4.11 THB
Swiss Franc
34.35 THB
Russian Ruble
0.56 THB
updated: 23 Aug 2017