Koh Phangan Elephant Trekking - Web Links
Here some links to other Koh Phangan related websites - enjoy :-)


http://beckspaced.com


Great design is great communication! Our focus is on the integration of programming, design and usability. We develop lasting relationships with our clients by serving as an effective partner in the Definition, Development, Implementation and Support of critical projects. Irrespective of the size of your business, you need to have a vibrant and business-oriented website that is capable of communicating with your partners and potential customers. We understand the fact that Budget is a constraint for small businesses and the website plays an extremely important role in the success of the firm.



http://kohphanganreviews.com


Had Mae Had is also a local dive site - many companies on Koh Pha-Ngan offer snorkelling and scuba diving trips to the nearby island of Koh Ma, which has a stunning coral reef. The beach on Ao Chaloklum is about two and a half kilometres long, with the main village of Chaloklum right in the centre. Ao Ban Khai starts where the Had Rin hills stop and is part of the long unbroken stretch of beach that runs all the way up to Thong Sala. There are a wide range of useful services on Koh Pha Ngan offering anything from travel reservations, visa applications, internet, international call and vehicle rental. The best time to visit Had Mae Had (as with all beaches this side of the island) is between the months of Dec-Mar, as during the rest of the year the sea level becomes lower and simming is not so good.



http://phanganutopia.com


The Utopia Modern House Bungalows are newly build and located just next to the swimming pool offering offering amazing views over lush tropical gardens. It's the perfect place to hang in a hammock on the balcony, with a scenic seaview and spend lazy time reading or taking naps. The swimming pool is one of only a few on the island and is situated next to the sea view terrace with uninterrupted views over nearby Chaloklum Bay and the Gulf of Thailand. Phangan Utopia Resort also offers an extensive variety of cuisines to suit everyone's taste, excellent service and an idyllic ambience in choices of restaurants & bars. Although there are many rooms, care has been taken to ensure that the wonderful natural beauty of the area remains and the bungalows have been positioned so as to blend in with the landscape and rich tropical gardens



http://thansadet.com


For those who come here to enjoy and appreciate the pleasures of Than Sadet, they take away memories that stay in the mind forever. MaiPenRai consists of 40 Bungalows directly at the Beach, on the Rocks or close to Thansadet River. This is truly a paradise where nature lovers and artists from all walks of life can come together, and enjoy the peace and serenity of this unique corner of the world. Mai Pen Rai offers a large variety of bungalows to travelers on different budgets, with more than 40 bungalows on the beach, on the river, and on the rocks. This corner of Than Sadet has a unique, simple rustic feeling, that of the old Koh Phangan and is surrounded by wild jungle behind and a coast line of rugged wildness - ideal for treks and boat trips to the neighbouring beaches on the East coast of Ko Pha-ngan.



http://kohphanganelephanttrekking.com


Trekkings are booked daily from 10:00 am to 3:00 pm including Sundays. Trekking is quite popular during the high season so in order to plan the tours more efficiently and minimize waiting times, we are happy to arrange advance bookings. Never approach the elephants without the mahout's supervision, because afterall, while friendly, elephants are still wild animals. If you book online in advance we guarantee a 10 % discount. Trekking per person is then only 450 Baht. And so, life for the elephants here in southern Thailand is much easier than in the logging camps of the north.



http://haadyaodivers.com


New location on Haad Yao since September 2009. Our main office is now right at the middle of Haad Yao behind Silver Beach Bungalows. Because of short distances these sites can be visited with a traditional longtailboat. Our favourite sites are Koh Mah, Haad Salad or Kong Yai. For stress-free and more personalized diving we take a maximum of 4 Divers per Divemaster. We are proud to offer the PADI Instructor Development Course (IDC) under the direction of awarded Platinum Course Director Camille Lemmens. At that time Koh Phangan was famous for its Fullmoon Parties on Haadrin beach but unknown for the beauty of its unspoiled reefs.



http://kohphangannews.org


In terms of development Koh Pha-Ngan is still way behind Koh Samui and the other main tourist hangouts such as Phuket and Pattaya, which is the main reason why is still attracts many travellers. Koh Phangan is a tropical paradise island perfect for investing, whether it be for business or pleasure. Koh Pha Ngan still retains its chilled out vibe and rustic desert island living, and virtually all the accommodation in still in friendly, family run bungalow operations. As a natural paradise island in the Southern Gulf of Thailand, Koh Phangan serves as the perfect getaway retreat; relaxing on quiet deserted beaches, snorkelling and learning to dive at the distinctive island of Koh Ma. You can party yourself to pieces in Had Rin Beach, watch coral grow from your hammock or you can stay at Than Sadet National Park and check out the giant monitor lizards.



http://plaa-thansadetresort.com


Plaa's Bungalow Resort is located at Thansadet beach on the east coast of Koh Phangan Island. Plaa's Thansadet Restaurant is located at the top of the hillside offering the best view over Than Sadet beach, the National Park and the Gulf of Thailand. The bungalow resort offers a great variety of accommodation with emphasis on style and quality; from simple island style huts to western standard cottages. Stay in nice thai style bungalows with shower and fan all at rockbottom prices. Enjoy the fantastic view and friendly atmosphere at Plaa's Thansadet Resort Kho Phan-ngan!



http://seaview.thansadet.com


The bungalow resort itself is based on top of the mountain on the northern end of Thansadet bay. Accommodation is clean and simple with private bathroom and shower. Impressive sea views over the Gulf of Thailand. 15 min steep walk to Thansadet Beach. Perfect for a jungle retreat! The small & intimate restaurant at Sea View Bungalow Resort also provides equally breathtaking views of both the sea and the jungle on two separate terraces. Arranged in a beautiful cliff side garden, each bungalow has a private deck overlooking the sea; Sea View Bungalow Resort at Thansadet beach truly lives up to its name.
Koh Phangan News

Don't hesitate and check out the latest news about Koh Phangan Paradise Island!
Elephant Trekking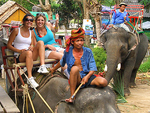 Currency Rates

US Dollar
30.21 THB
Australian Dollar
20.50 THB
British Pound £
39.03 THB
Canadian Dollar
22.73 THB
Danish Krone
4.47 THB
Euro €
33.43 THB
Hong Kong Dollar
3.86 THB
Japanese Yen ¥
0.28 THB
Swedish Krona
3.14 THB
Swiss Franc
30.40 THB
Russian Ruble
0.47 THB
updated: 22 Nov 2019